---
---
Other Work
---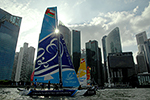 Extreme Sailing Series Singapore Day 2, Feb 7, 2015
by Peter Andrews.
---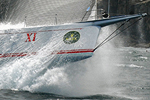 Sydney Hobart 2012 start
by Peter Andrews.
---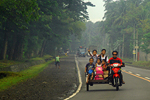 Davao del Sur and Cotabato Provinces, Aug 2012. Assignment by Peter Andrews.
---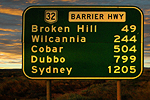 Road trip to Broken Hill NSW, May 2011 by Peter Andrews.
---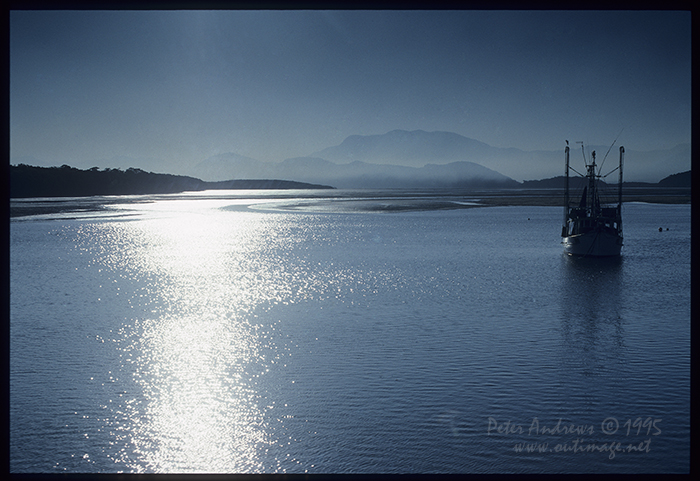 It is always the background in this photo for me, taken from one of the tributaries of the Herbert River at Lucinda in North Queensland, that is staggering in its beauty. Hinchinbrook Island, no matter what angle you look at it, just blows you away.

Hinchinbrook's highest point is Mount Bowen (Queensland's third highest mountain) at 1,121 metres (3,678 feet) lies at the centre of a significant mountain range that runs much of the length of the 52 km island. The entire island is a fully protected wilderness area and a refuge for many endangered species of flora and and fauna.

Seen at anchor in the tributary which flows out to the Hinchinbrook channel is a local fishing or prawn trawler. Within the Hinchinbrook Channel between the Island and the mainland is a complex maze of tributaries surrounded by dense mangrove forest. The channel and its many tributaries are also home for the deadly saltwater crocodile and a population of dugong that feed on the seagrass that grows on the channel floor.

The smoke lingering around the mountainous valleys of the island are most likely from the previous night's sugar cane fires, a method still used in the mid 1990's in this part of the world to remove the leaves and stalks before harvesting the cane. Lucinda is also the home of the world's largest bulk sugar loading facility which includes a 6 Km long jetty.

Story by Peter Andrews, Monday June 16, 2017. Photo taken by Peter Andrews at Lucinda, Saturday July 15, 1995.
Outimage Publications © 1995 and 2017.
---
Outimage Links and Site Info
Outimage Help Page
Copyright Info