---
---
Site Contributors
Studio Borlenghi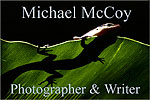 Michael McCoy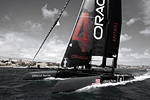 Morris Adant
Peter Andrews
Hobart fleet battles on with first retirement.
By Jim Gale and Lisa Ratcliff, Sydney Hobart media team.
Photos by Peter Andrews,
Story and Page edited By Peter Andrews.
21:00 AEDT December 26, 2010.
As night fell Grant Wharington, the skipper of the Melbourne 98 footer Wild Thing reported that his supermaxi was beating into a 25 knot south-easterly breeze under a reefed mainsail and jib. He expects that during the night the wind will rotate to the south west.
---

Grant Wharington and crew onboard the Maxi Wild Thing, outside the heads after the start of the 2010 Sydney Hobart.

Photo © Peter Andrews, Outimage Australia .

---
"We'll get headed as we get around Montague Island and when we hit the land, we'll flip back [onto starboard tack]," he said. "As we approach Gabo Island the wind will keep going to the right into the south west. So we will do a couple of tacks close to the beach and see how quick the rotation is."

Wild Thing is lying in third place with Sean Langman and Anthony Bell's Investec Loyal within sight, and four miles behind race leader Wild Oats XI which is now 18 nautical miles south of Jervis Bay.

Wharington was pleased with his start in Sydney Harbour today, despite a brief encounter with a media boat. Fortunately Wild Thing emerged unscathed, her bowsprit sub-stay having clipped the back of the launch. "Luckily we didn't hook in, we just wiped the barbecue off the back corner of their boat," he said.

Michael Bellingham, navigator of Stephen Ainsworth's handicap chance Loki said at 8.50pm tonight, "We had the front at 5.30pm and it came in at 25 to 30 knots with heavy rain. The sea is increasing and still rising, [we've seen] thunder and hail. Wind now from the SE at 15 to 20 knots, it's great sailing and not too cold yet. There's plenty of excitement."
---

Stephen Ainsworth's Reichel Pugh 63 Loki, outside the heads after the start of the 2010 Sydney Hobart.

Photo © Peter Andrews, Outimage Australia .

---
The 628 nautical mile annual passage into the Tasman Sea has claimed its first casualty, Andrew Lawrence's Jazz Player, which retired at 8pm this evening with mainsail damage. The crew are OK and the boat is returning to Sydney, due after midnight with 30 miles of motoring ahead of them.

"Just as the front arrived we were in the process of reefing early," said navigator Darren Robey. "As we got the second [reef] in we saw 45 to 50 knots on the dial when the leech (aft edge of the sail) blew out of the mainsail. We thought it too bad to fix. So that is that and we return. There is always next year. That is the great thing."

For further information about the Sydney Hobart Yacht Race, go to: www.rolexsydneyhobart.com. The race can also be followed on Twitter at: http://twitter.com/rshyr.
Outimage © 2010